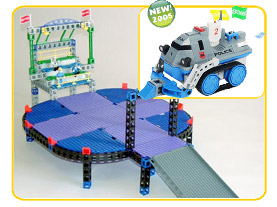 Two RC Police Defenders with FREE ROK Arena
ITEM #10938
This special bundle contains two of the RC Police Defenders plus a FREE King of the Rok Competition Arena.

RC Police Defender
RC Police Defenders are on guard to keep the peace in the Rokenbok World. They practice their skills playing capture the flag, and itís a blast! Knock off your opponentís flags by bumping into them, or better yet, roll your opponent over with your defender ram. Itís a real ROKín Rumble! You can play anywhere, but itís especially fun in the King of the ROK Arena. Your urban combat police vehicle is equipped with 4-wheel drive, sturdy mechanized defender ram, and 3 snap locations to affix you flags for battle competition.

King of the ROK Competition Arena
You have constructed the greatest competition arena in Rokenbok history. Head up the arena ramp. Plan your strategy. And go! It's competition time! Face off against the ROK world's greatest challengers! It's head-to-head non-stop action! When push comes to shove, your challenge is to stay in the Arena, survive, and win! This is a game of skill, strategy, and power. Test your skill control. Test your machine. Test your courage. Includes over 139 building pieces.

This offer is available online at the Rokenbok eStore as well as participating US retail and internet dealers. Offer valid through 11/30/05 or while supplies last. Valid in the US and Canada only. Please note this ROK Arena is packaged in a plain white box.
| | |
| --- | --- |
| U.S. List Price: $119.97 | Now only $79.98 |
| | You save $39.99 |